Animade's "Party Pooper" is a whimsical web-based experiment that combines charming character animation with casual point-and-click puzzle solving. 
Inspired by real events, the goal is simple: get rid of unwanted guests as quickly as possible.
Created with After Effects (and Bodymovin for SVG export) by a small, in-house team, the project is an excellent study in working within constraints. Time, technology and resources were limited, so Animade had to prioritize fun above all else.
Here's how they did it.
Making "Party Pooper"
How did the designers/animators and coders work together? What was the general workflow for this?
Animade: We paired up designer and animator Milo Targett— who conceived the idea for the game—with front-end developer Simon Neveu. The whole venture was project-managed by Nick Fahey, who worked alongside Amy Knight, who did all the in-game copywriting, to plan the pre- and post-release marketing.
Everything was very organized from the start; we treat our in-house experiments in the same way as client projects, with a brief, a schedule and key milestones to aim towards.
The process started with Milo sketching out designs on paper, which he then worked up and animated in After Effects. This made things clearer when handing over to Simon, who set about reconstructing the scene in code using a plugin called Bodymovin.
Milo: There was lots of back and forth along the way. Some things didn't work, ideas needed tweaking in order to work on a practical level—it was a real learning curve.
We had a lot of meetings to work out what would be possible in the time we had. There were so many features we wanted to include, it was a case of paring the game back to its core essence in order to facilitate the storyline.
Was this game inspired by a love for the point-and-click adventure games that were so popular in the 80s and 90s? Or… was it from some other place?
Milo: Yes, partly! I wasn't alive in the 80s, but I had a game called Goblins in the 90s and dabbled in The Secret of Monkey Island.
I was playing Grim Fandango when coming up with the design for "Party Pooper" and thinking about how the game would work. I wanted it to be an adventure play-through thing.
But the idea itself came from a real-life experience: I had a New Year's Eve party that got a bit out of hand…
Did you concept each problem/solution pair and then create the characters to fit — or the other way around?
Animade: For the most part, Milo designed the characters first and then thought of befitting ways for them to be 'pooped'; although the idea of party snacks getting hoovered up had already seeded in his mind before designing the characters, so it was kind of a mix.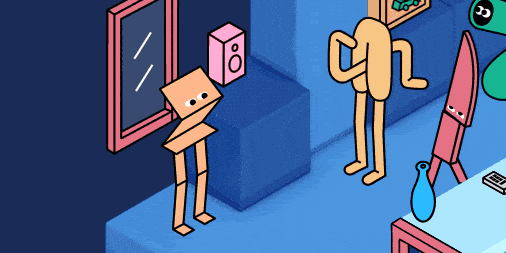 Paper (the foldy guy by the window) and Box made an appearance quite early on, and we shared Paper's demise as a little teaser on social media while we were in the throes of building the game.
Some characters, like the Knife, didn't have their fate foretold until nearer the end—the process was quite organic, really.
What did you guys learn from this project? Any nuggets of wisdom you can impart?
Animade: From a technical point of view, we pushed the SVG animation to its limit—it started getting heavy when we had everything in. We also learnt a lot about Bodymovin.
Process-wise, the whole team had to adapt as we went along, being open to different routes and not getting attached to certain ideas. Our regular meetings allowed us to share thoughts and feedback while taking on board people's advice from their various standpoints, whether creative, technical or process-orientated.
Milo: For anyone trying to make a game as a small project, I'd recommend scaling it back to make it manageable—focus on the core of what makes the game enjoyable. Then test the hell out of it with as many people as you can!
Links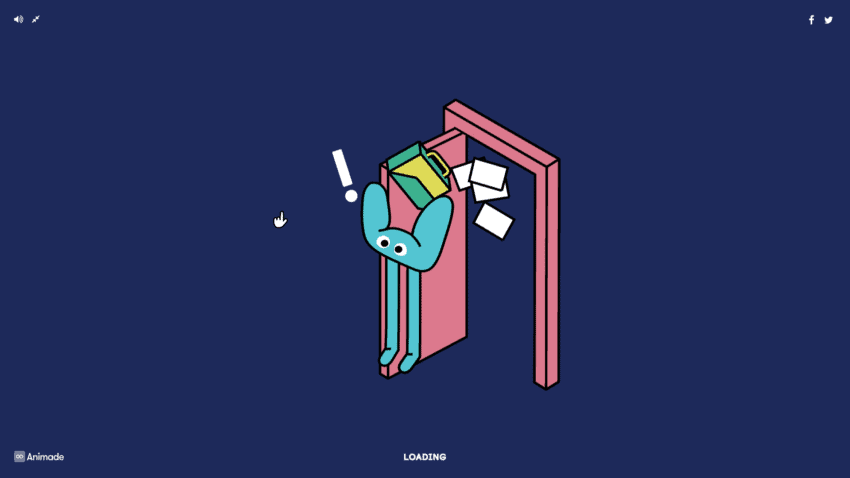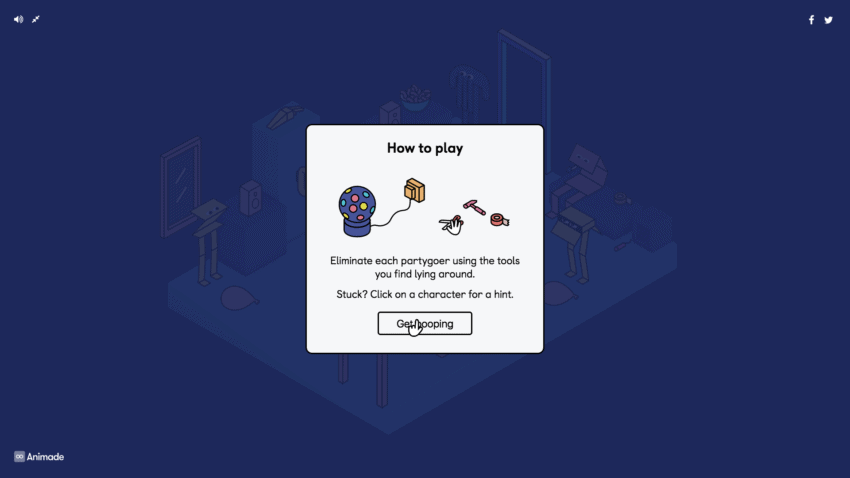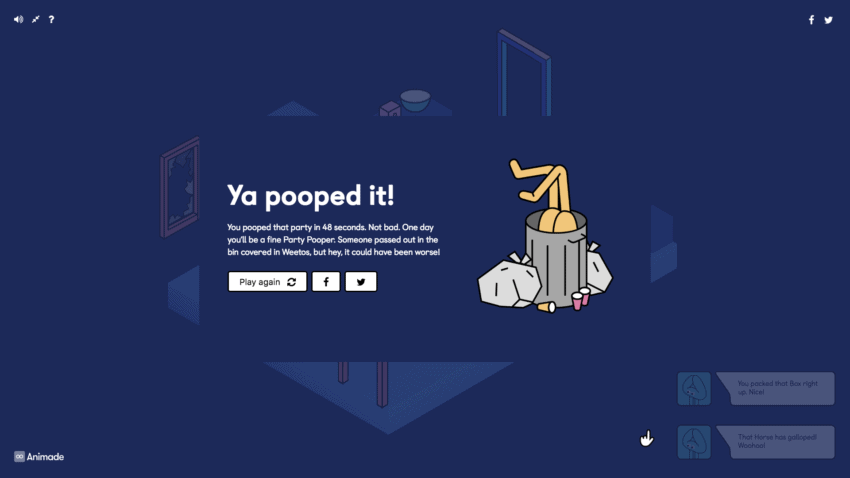 Credits
Design and Animation: Milo Targett
Development: Simon Neveu
Copywriting: Amy Knight
Project Management: Nick Fahey
Marketing/PR: Amy Knight
Music Track 1: Prince Lucien
Music Track 2: Big Cool Slug