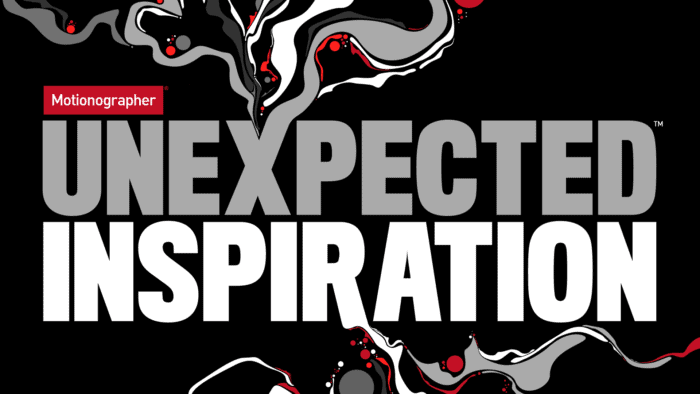 Since 2006, Motionographer has been an independently run digital platform, sharing the latest and greatest in motion design.
For us to keep providing our beloved community with insightful features, relevant news and the infamous quickie, we need to rebuild our house from its foundations.   
With as much passion as ever, we are channeling our energy into revamping our infrastructure, the result of which will undoubtedly strengthen our production and widen our reach.  
Our team has been analyzing our strengths and weaknesses for many months, searching for areas of growth and common trends. Thankfully, stopping just before anyone drew a Venn diagram, we came to a unanimous conclusion.  
The common thread that binds the last 14 years together? 
Unexpected inspiration. 
It has been the lifeblood of Motionographer's existence and the source of our offspring, the treasured F5 festival. This epiphany has become the key focus of our refresh. We are so excited to bring you a whole new world of content through this powerful lens. 
Please join us on our journey, as we look to contribute to the community in an even more impactful way than ever before.
Our passion is to uncover 'unexpected inspiration' and our mission is to share it with the world.
What this means for you?
More articles featuring in-depth interviews and process breakdowns, exciting exclusives, workshops parsing down techniques, and illuminating subjects that go beyond motion design.
A new "news" section highlighting the latest industry headlines, event announcements, and Motionographer updates and happenings.
An improved submissions platform to submit your news or project for publication on Motionographer. This new system promotes an equal playing field and provides Motionographer with broader access to global talent. All applicants will receive a notification indicating whether or not their submission will be published.
Commitment to diversity, equity, and inclusion with initiatives highlighting underrepresented professionals in the motion design and creative sectors. Additionally, our inaugural High School internship program is well underway, providing an enriching educational experience to a diverse pool of promising students. Be on the lookout for these talented newcomers on Motionographer.
No more Patreon. Patreon has been an important part of our history, but we are now looking at implementing a more sustainable business model. We will continue to honor your generosity by delivering progressive programming and recognizing the pinnacle of unexpected inspiration.
Social Media. Sometimes less is more, especially when it comes to social media.  F5 and the Motion Awards will no longer have separate accounts.  You can now follow Motionographer to keep up to date with all our brands.  Please be sure to follow us on:  Facebook, Instagram, and Twitter
To get to know the team behind Motionographer, please visit our new about page.  We are forever a work-in-progress and we look forward to evolving with our community.
Here's to uncovering unexpected inspiration together.
Sincerely,
Bevin McNamara
editor-in-chief