Editor's Note
Tom Ludlow, a Motion Designer, studio founder, former farm boy, and Colorado native, created an Instagram account as @Denver_Donkey in 2012, a nod to his love for the Denver Broncos. 
In 2021, he began creating and listing NFTs under the same moniker. In April 2022, his wife, Lindsay Ludlow – fondly referred to as Mrs Donk – detailed his journey into the metaverse in the Motonographer article: Non-Fungible Husband. 
Now, the Donks are back with a series of interviews showcasing people, projects and opportunities within the NFT and Motion Design space.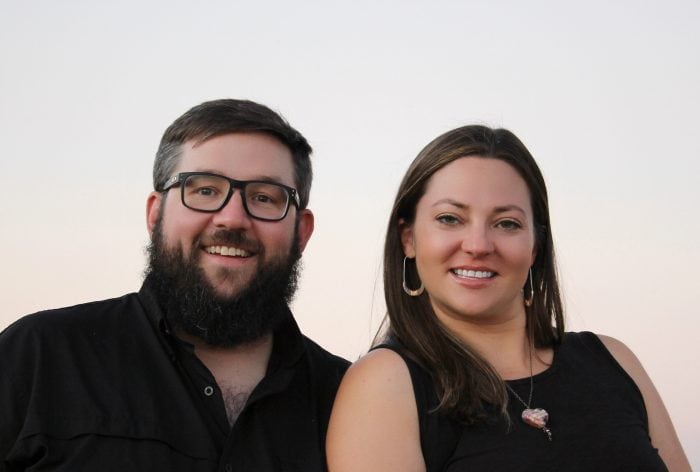 This week, the Donks sit down with Creatress (Sarai Mora), a virtual reality (VR) and augmented reality (AR) NFT performance artist and collector. She creates music-driven, dance-based VR performance art that she mints for sale on Ethereum (ETH), featuring videos of her performances and 3D renderings of her VR and AR paintings. 
Creatress talked about her artistic process, her involvement in the NFT community, and her views on women in NFTs.
---
Life has been busy for Creatress lately. At NFTNYC, she performed or spoke at more than ten events, including Sazón, NFT VIP, Cr3ative X NYC by Searchlight, and Mona X NFT.NYC x Wakonomy.
Earlier this spring, she attended and/or performed at multiple NFT-related events around the US, including VeeCon, San Diego NFT Con, ETH Denver, and ArtBasel. An innovative performer, Creatress has inspired many with her live shows and talks educating the public about the crypto art world.
Creatress's journey into the world of NFTs happened earlier than many.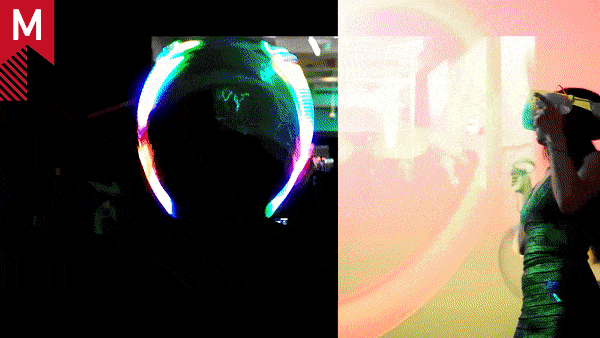 ---
Creatress
I joined Clubhouse on January 2nd, 2021, about a year and a half ago now, and there were NFT rooms every day. I remember seeing really big rooms where people were talking about NFTs. People like Drake Bell, MC Hammer, and I think Gary Vee would pop into these rooms and try to explain what NFTs are. 
And I was just there listening, learning, kind of skeptical, to be honest. Because everyone was raving, like almost a little too much, it seemed a little too good to be true. But then, after a couple of months of learning about it, I was like, okay, this is pretty legit.
DENVER DONKEY
That's interesting because everybody we've asked has a different kind of timeline on that; you know, I was like night one, 'oh my gosh, this is so cool. I've got some stuff; let's try it, you know, see what happens.'
---
After she had done her own research and the skepticism wore off, Creatress joined Mintable and minted a drawing she had made on Procreate. She decided that Opensea was a stronger marketplace and began to mint her VR paintings. 
After creating her first VR NFT, Extra Solar Butterflies, using GravitySketch, Creatress used a Motion Design process to capture and mint the collection.
---
Creatress
I did these [Butterflies] when OpenSea didn't have the 3D viewer capabilities. So, I couldn't upload a GLB. I had to capture it in video. That was the only way essentially that I could mint it. So, I immediately was thinking, how do I make it look interesting? How do I rotate it within VR and smoothly turntable it? I just couldn't. 
So, I was essentially puppeteering and then capturing the motion at the same time with the headset. So that took multiple takes. If it would look a little weird and choppy, I would just restart the whole thing and try to almost have choreography for my sculptures. 
They were supposed to be butterflies flying in outer space. So, the motion; it's weird. It's erratic sometimes. And I figured these are extraterrestrials. It's not going to move just like a butterfly. All of that definitely came into play in that first collection.
MRS DONK
Gotta love a happy accident, right? Extraterrestrial butterflies. So fun! 
DENVER DONKEY
That's all great little insight into your process and how these things come together. Thank you. 
---
Her process in capturing and minting her VR performances has since evolved. Creatress has found success with the Known Origin marketplace. 
---
Creatress
The performance NFTs that I've minted also come with embedded NFTs. An example is an artwork that I made in San Diego, you have the NFT, and it's a 3D sculpture. If you buy that 3D sculpture, which is a one-of-one, embedded in the contract is another NFT that shows a video of me creating the NFT. It's a video clip of the performance. So when you buy the sculpture, you automatically get this clip of how it was made. I don't know anyone who's done that.
Not many people mix virtual reality, augmented reality, and performance art in one NFT. So my art is made live, in front of an audience. It's made in VR, but then the collector gets an augmented reality file that they can use to make their own mixed reality or augmented reality content.
---
Creatress typically performs at live events wearing an Oculus headset and handheld touch controllers along with a shimmering dress. Her performances are futuristic and captivating. She dances alongside DJs or other music acts creating 3D sculptures that are projected live from her headset onto a large screen behind her, allowing the audience to see first person what she's creating in real-time. 
---
Creatress
I start with the music. Whatever DJ is playing, I kind of interpret the sound. It's a little bit like synesthesia, but also, almost like translating the sound, or the beat, or the rhythm into a physical 3D object. For performances, it's improv; it's abstract. I try not to impose any kind of figure, form or idea on it before the show.
---
Creatress's art seeks to explore "feminine, indigenous and organic forms in an otherwise rigid ecosystem, to bring representation and challenge the limits of our growing multiverse." 
As far as her success in the space, she explains that she's seen a lot of highs in terms of recognition and opportunities. 
---
Creatress
In terms of sales, I feel like it's been steady the whole time. I don't have a lot of sales in general. Every couple of weeks or maybe every month, there'll be one or two.
But I'm performing live at more events this summer. It might go a bit higher. We'll see, here's hoping.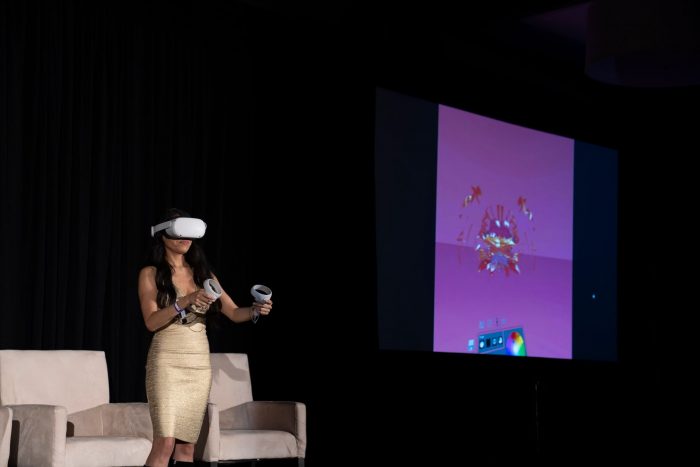 ---
Being a woman in the NFT space, Creatress Sarai told us, has come with many opportunities but also its own set of challenges. 
---
Creatress
I have been part of multiple women-only exhibitions or shows. However, I can't say I really sold much work in them. 
By the numbers, the men-led projects outperform women's in sales. I do see a lot of disparity in the amount of collecting that goes down with just my friends that are also women in the space. It's unfortunate, but I'm not really sure what we can do except just use our own wallets to go and to support more women artists. 
I'm trying to be positive, but it is kind of an abysmal situation when you start looking at the numbers. But, that being said, I think I've still been given a lot of support in space. I can't complain. I feel like I've been pretty lucky. Whether it's through luck, or hard work and talent, anyone can get into this space, even if you don't think you're equipped to. I'm an immigrant; I'm a woman; I'm Latina. I'm a young, full-time mom. You know, maybe that's not necessarily the demographic you'd expect the person to be making NFTs, collecting NFTs, teaching other people about NFTs. So I think that just goes to show that anyone can come in and start learning and start participating.
DENVER DONKEY
Well, and I'll say that at least we're talking about it, or at least we're having these conversations. And we have to use our wallets to support the right creators.
---
Denver Donkey and Creatress "met" on Twitter, where they both regularly participate in Twitter Spaces. Twitter Spaces is a live audio platform where a large NFT community has developed and where many artists and collectors go to learn about new projects and shill their wares. They got to know each other more on Discord, where the two artists both participate in a group called Futurecraft. 
If you're interested in learning more about the NFT world, Creatress recommends becoming involved in the online community.  
---
Creatress
Just get into Twitter Spaces. Get in a couple of Discords and see how the culture is. More than anything, just be active. If you go on a Twitter space once a day, you'll be truly knowledgeable about what's going on, and you'll find people that are willing to help you.
---
So what's next for Creatress? 
In August, she'll be performing at the NFT3 Awards Gala, where she hopes to be nominated for an award. She's also planning her next drop on Nifty Kit, a site many artists are turning to due to its capability to allow artists to create their own contracts. 
A self-described "super-brainstormer," Creatress has also considered minting her own ideas on the blockchain. The minting of ideas, she thinks, could help prove ownership of an idea or concept, almost like a patent. 
She also plans to add to her growing collection of NFTs. 
Of the roughly 300 NFTs in her collection, some of her favorites include: 
Multiple works from the Long Neckie Collection by 13-year-old artist Nyla Hayes, who was recently named the first TIME Artist in Residence.
You, a PFP (profile picture) project created by MyBFF, a community founded by Mila Kunis, Gwyneth Paltrow, and Tyra Banks whose mission is, to help women and non-binary people get educated, connected, and empowered in web3.
Creatress is pushing the boundaries of what NFTs can be and providing a valuable voice within the space. 
---
Creatress
Just being in the community has given me opportunities that are pretty amazing.
---
We can't wait to see what opportunities present themselves to Creatress next!