In recent years, game trailers have generated almost the same level of excitement as the games they promote. They're often considered works of art in themselves, with their own unique storylines and creative approaches. 
With such a short run time, cinematic game trailers must captivate and immerse audiences in the game's universe quickly with high-end visuals and music. 
At Goodbye Kansas Studios, we've created successful cinematic trailers for notable games such as CD Project Red's Cyberpunk 2077, Assassin's Creed: Valhalla, and Ubisoft's Skull and Bones. 
More recently, we were approached by AKQA to create the cinematic trailer for Sony and Santa Monica Studios' newly released action-adventure game, God of War Ragnarök.
This was an exciting opportunity for us, and we were keen to explore the epic journey for the game's audience, telling the story of its protagonist, Kratos, and his son, Atreus, as they embark on a journey to fulfill Atreus' mother's last wish. 
We created breathtaking environments, from snow-covered mountains to intense action scenes. All of these contribute to the compelling narrative told in a short, twenty-three-second sequence comprising just six shots. 
It was an opportunity to demonstrate the full potential of our newly developed pipeline based on Universal Scene Description (USD), utilizing a combination of cutting-edge technologies, including developments in 3D, facial animation, and motion capture, to bring cinematic life to the God of War universe.
Written by:
Alexis Andersson, CG Supervisor
Henrik Eklundh, VFX Supervisor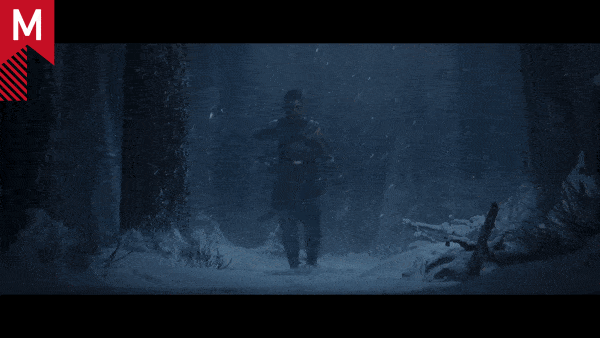 ---
Concepting
It all starts with an idea. We were approached by AKQA with a concept for the trailer and asked to help bring it to life. Starting off with the initial concept, the Goodbye Kansas team, led by director Fredrik Löfberg, created a storyboard to act as our guide – something to show key shots that would be replicated in the trailer along with moments and tone to fulfill. 
We turned that into a 3D previz to provide greater clarity of what the final narrative would look like. Meanwhile, our Art Department, guided by Art Director Gustaf Holmsten, worked to create stylistic concepts that are visually like-for-like to what you would expect to see in the final picture. These initial style frames were signed off by the client and became a useful foundation for the team to reference throughout the project.

Motion capture 
With the previz signed-off, our next step was to plan and execute a motion capture shoot. Mocap technology provides a fantastic method for generating character movements rapidly – literally capturing the performance of an actor rather than hand animating a sequence frame by frame. We were able to use individual moves, sections, or set pieces within our animation software. 
We shot this section during the pandemic, which posed an obvious challenge. Usually, the shoot would take place in Stockholm on our in-house motion capture stage. But, due to difficulties flying the actors over, half the team headed to Sony's Santa Monica Studio stage while the rest dialed in remotely. It meant we could go where the actors were and ensure the safety of our cast and crew, all the while knowing that Sony was set up for high-fidelity motion capture that would work in our animation process. 
Despite the challenges, the shoot went smoothly, with valuable input from Santa Monica's animation director, Bruno Velazquez, who gave guidance on how Kratos should swing his axe and move in battle.  This allowed us to work closely with talents to breathe life into the characters.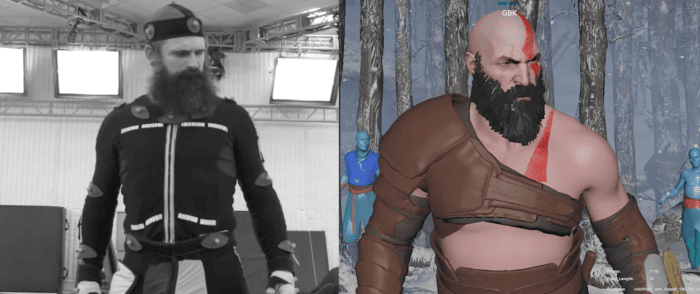 For this shoot, we were fortunate to be able to work with Super Alloy, the same team that also did a lot of mocap for the game itself. This reduced the time needed to understand the characters, and we could focus on what we needed for the trailer specifically.
Following the session, the mocap data was reviewed, and a round of selections was chosen. The directors picked what action they wanted to be included, which was then inputted into motion editing and animation software so that there was a cohesive timeline to start with.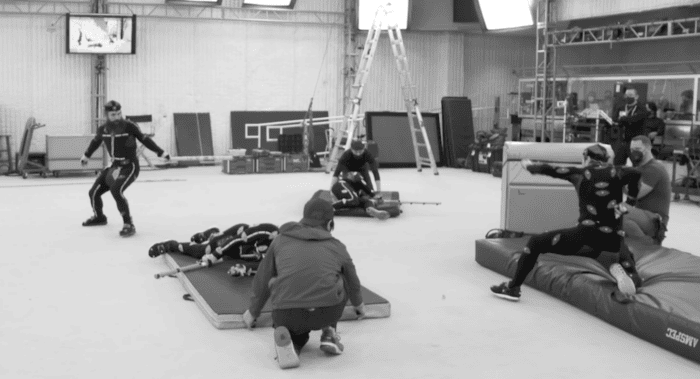 Character, environment, and asset building
One of the biggest challenges of the project was ensuring that Kratos and Atreus matched the likeness to the game characters. We had the original game assets and sculpts from Santa Monica Studios, which we converted and used as a base from which the team could create refined cinematic versions. 
Our facial rigs are of the highest standard, and we keep pushing their development to ensure we stay ahead of the competition for digital humans. 
To ensure the characters resembled the ones from the game but with higher quality, we were meticulous about the details. We underwent multiple rounds of feedback to ensure that they looked exactly like the game characters and that they matched and remained true to the game. 
We wanted to ensure that fans of the game were satisfied with the result, and we went to great lengths to make sure that the Santa Monica Studios was happy with the final outcome.
Using Maya, Blender, and ZBrush, the team built our 3D models. These were then rigged using Maya and our proprietary facial animation toolset. The characters' bodies were animated in MotionBuilder, with the motion capture data being pulled in. 
Facial animation on a project like this is crucial. It needs to be believable as a person while maintaining the sense of the world they're in. Our facial animation team worked meticulously to match Kratos' distinctive appearance in all aspects of animation by studying the motion actor's performance, tweaking and perfecting in Maya, and using Substance Painter to apply textures.
This is also where the versatility of the USD pipeline comes into play. We were able to iterate quicker in the team, and everyone could follow the progress in a new way, which empowered ownership and strengthened creative output and speed. 
Once finalized, the assets were published as a USD file and opened in and opened in Solaris, which is the context inside Houdini for building, layout, lighting, and rendering based on the USD framework. It's here that a look development artist took the published characters and applied groom and textures. 
We also used V-Ray shader for the look dev of the sequences, which were then layered on top of the characters. These elements, combined with the rig and a simulation FX mesh, were layered on top of each other to create a character package. 
Camera information and animation were also published into USD as an animation cache. And, thanks to USD, we're able to edit any aspect of this stack without having to rework subsequent sections.
FX, lighting, and compositing 
Lighting is what sets the mood of the shot, whereas FX adds a fantastical element to the scene. Compositing takes the 3D output and makes sure a scene looks as realistic and beautiful as it can be. Our lighting artists were provided with a template, known as a 'node tree' in Solaris, and worked on different elements that were split out into render passes.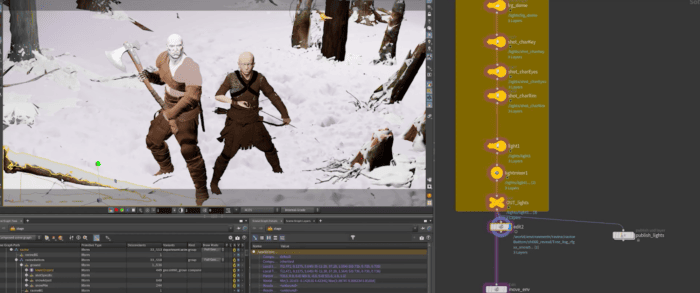 These passes were then sent to the farm to create a series of 2D images. Before lighting, simulations for character and creature effects were performed on the animation cache, and all the resulting effects were layered over the animation to create a final output. 
USD essentially treats each edit or component as a layer with overrides – one on top of another until you have your final result.
The trailer's opening shot proved to be one of the more technically challenging aspects, with multiple moving parts. From Norse creatures (draugrs) covered in lava to smoke and snow, it was important to capture all aspects of the scene to convey what was happening. 
For instance, the team paid attention to detail in showing footprints in the snow. Though most viewers may not notice this, it was essential to ensure that all elements worked together. It's the art of including subtle details that really sell a shot – you might not notice that footprints are there, but you definitely would if it wasn't. Explosions, fire, smoke, snow in the air, and embers from the draugrs, were all created in Houdini with the same attention to detail. 
Lighting is the last step before 3D gets transformed and rendered into a 2D image. The work from all departments gets combined into a single usd file which the lighting department then splits up into different renders. Then they get sent to the farm or cloudfarm where 3D images get transformed into a 2D exr image for the compositing team to pick up.
God of War has some heavy shots to work with, including characters, snow, smoke, and fire, all in one place, which would have been intense to render. We needed to ensure that these different elements were split up into separate outputs and layered like pieces of a puzzle. 
The compositing team did an amazing job of ensuring that all rendered components worked together seamlessly, especially in tweaking the different components to achieve the heavy snowstorm effect.
Rendering and grading pass
Solaris in Houdini is our chosen tool to create assets and scenes, and we render those out from Solaris using V-Ray. 
At the start of a project, we always discuss the fidelity target and purpose of the trailer. As part of this, real-time rendering or not is one of the big choices. We are specialised in both paths and understand the challenges and different workflows that need to be applied for each, but also to be able to communicate regarding the final fidelity bar.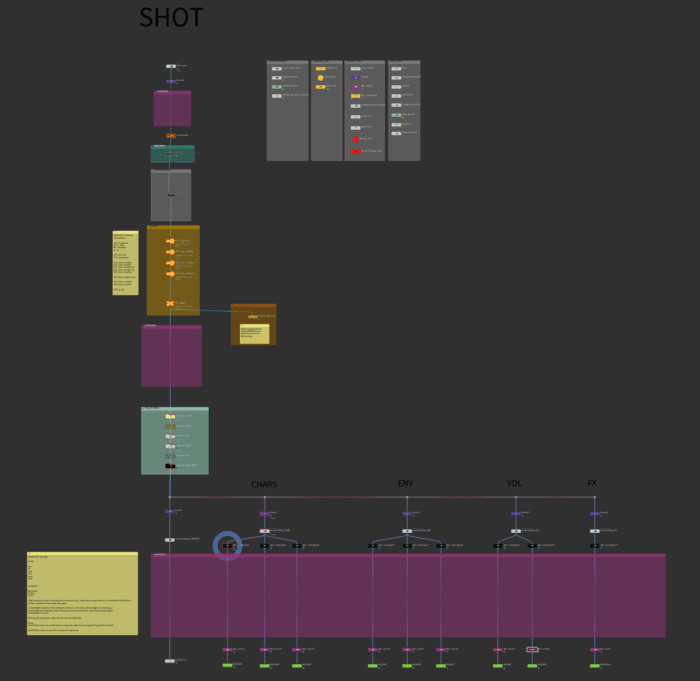 We needed every frame to be perfect, which is why we use offline rendering – in this case, Chaos' V-Ray. 
Finally, our colourists do a grading pass in DaVinci Resolve to achieve the desired feel for the final sequence. Once the grading pass is complete, the footage is exported for use and delivered to the client for the world to see.
In realizing the cinematic trailer for God of War Ragnarök, the Goodbye Kansas team used a range of different technologies, including 3D, facial animation, and motion capture, to create breathtaking environments and a compelling narrative sequence.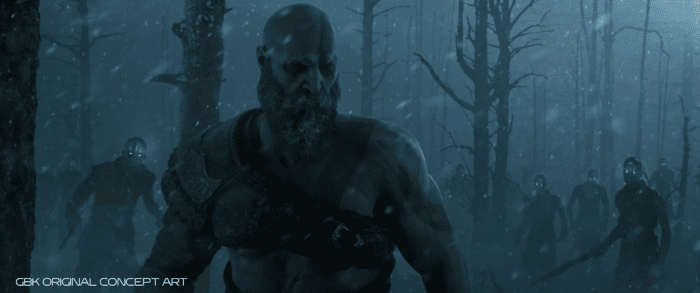 While we've created numerous game trailers in the past, it was a challenging task to tell a compelling story and include all the essential elements in a short timeframe. 
However, from a technical standpoint, the process was straightforward. The use of advanced software tools in our newly-developed USD pipeline, including Houdini's Solaris and V-Ray, enabled the team to create stunning 3D scenes and render them efficiently. The compositing work using Nuke then seamlessly integrated different elements to achieve a cohesive and dramatic visual experience. 
Overall, the trailer is a testament to what's possible with a well-thought-out pipeline alongside our team's expertise and creative direction. We're proud to have delivered a visually stunning and emotionally engaging trailer that captivates the audience.
---
Behind the Scenes 
---
About Goodbye Kansas Studios
Goodbye Kansas Studios offers award-winning and uniquely integrated services for feature films, TV series, commercials, games and game trailers. Expertise includes VFX, FX, CG productions, 3D face & body scanning, digital humans, creature & character design, performance capture, animation and real-time techniques. The company, with a staff of 250+ is part of Goodbye Kansas Group AB (publ), listed on the Nasdaq First North Growth Market and with studios and offices in Stockholm, London, Helsinki, Vilnius, Belgrade, Beijing, and Los Angeles.
---