The wizards at Red Paper Heart just returned from San Diego Comic-Con, arguably the largest orgy of geek culture in the world, where eager fans lined up for their amazing Game of Thrones Sword Experience.
RPH's client, CIVIC (an Australian media company), wanted users to experienced a condensed version of the transformation that Game of Thrones character Arya Stark has undergone over the past five seasons of the show. From wielding a wooden training sword to slaying men with her beloved Needle, Stark's character arc is defined in part by her growing mastery of swordsmanship.
This was an ideal jumping off point for RPH:
In the experience, fans get their profile photographed in a special photo studio, then step on stage to wield a replica of Arya's training sword. Facing a 10×10 foot projection, fans swing the sword to try and hit targets. Once hit, the targets spill artwork onto the canvas including blades, dragon claws, raven feathers and direwolf fur. As the artwork grows and becomes dense, fans reveal a portrait of themselves, made from the elements of the show.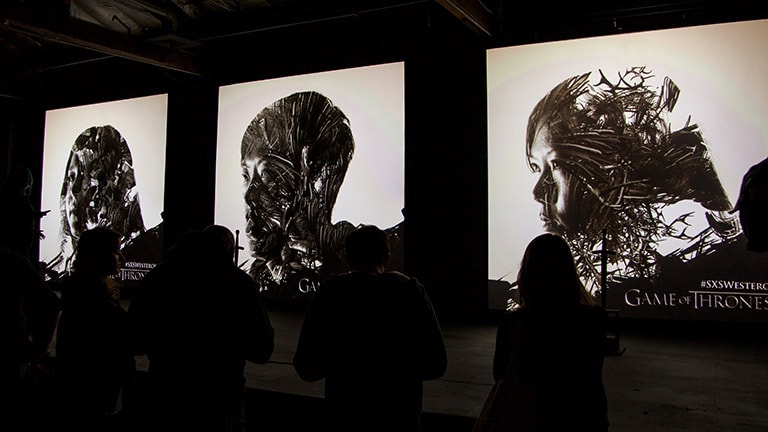 It was a hugely ambitious project, one that called equally on strong art direction and creative engineering for success:
To accomplish this, we embedded wooden swords with wireless gyroscope and accelerometer sensors that measure the trajectory and velocity of each swing. As the user slices the on-screen targets, projected artwork spills out based on the swing. Each piece of art rotates, scales and moves in the particular way the user swings their sword. Our custom graphics engine, written in the C++ framework Cinder, blends both 2d and 3d visual elements inspired by Game of Thrones. This 3D world is then masked by the user's own photo, so that the build up artwork fills in their portrait.
The debut installation of Sword Experience was at SXSW 2015 in Austin, Texas.
Credits
CIVIC
Client
Red Paper Heart
Zander Brimijoin – Creative Director
Daniel Scheibel – Technology Director
Adrià Navarro López – Creative Coder
Lisa Walters – Senior Producer
Luke Choice – 3D Designer
Eve Weinberg – Design Intern
Eric Jiang – Developer Intern
OhrenKunst
Simon Scheibel – Sound Design
Charlotte Klauser – Sound Design
Project Reel
David Terranova – Music