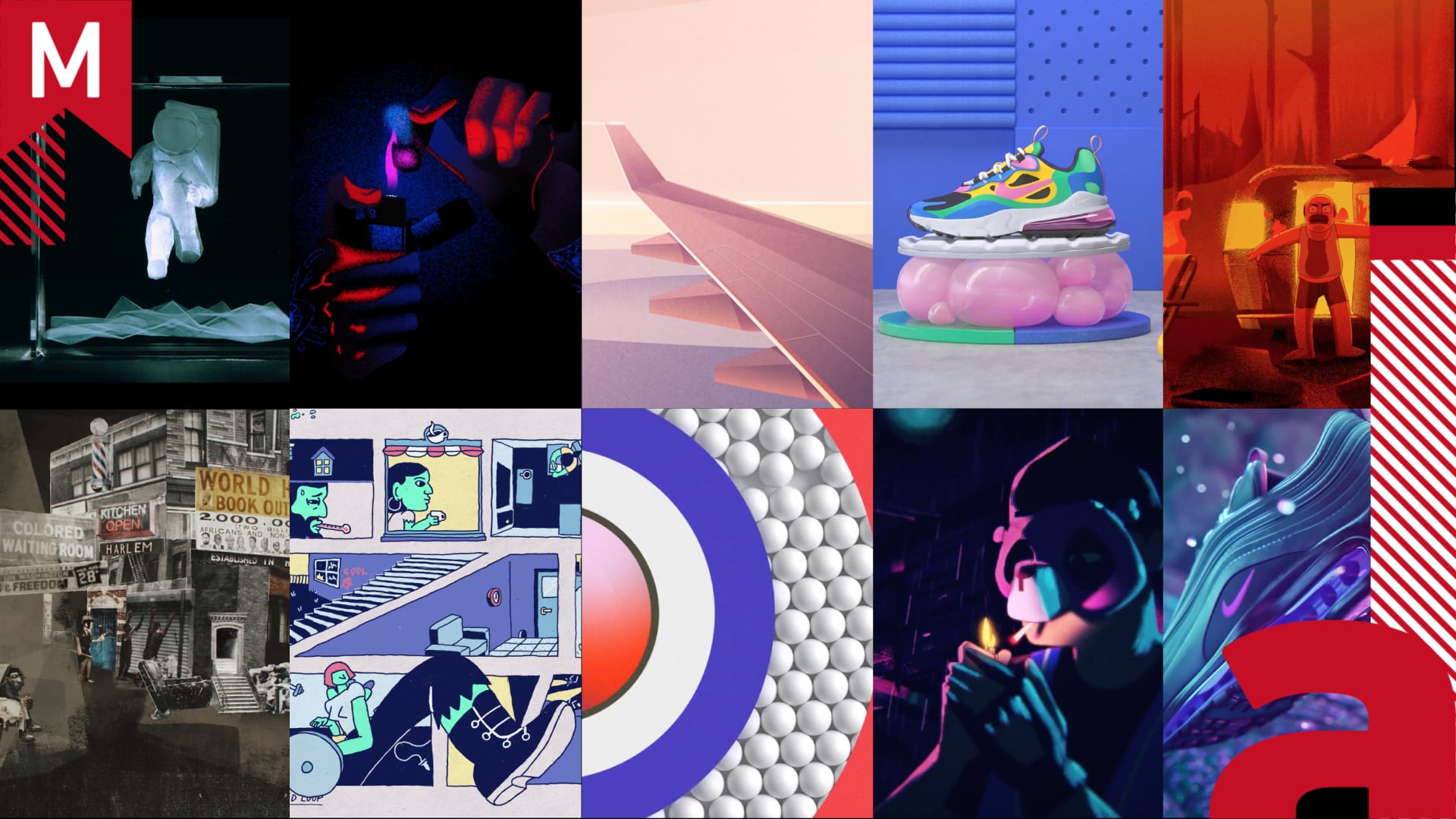 STILL TIME FOR A QUICKIE OR TWO.
To close out the year, we bring you the most viewed Quickies from Motionographer 2020.
To be featured on the site, all entries had to hit the mark but to be among our most viewed; they had to leave one too (and SEO can't hurt!).
Join us as we share your top-viewed videos from 2020, in no particular order, but featuring lots of unexpected inspiration.
Drasik Studio
Drasik's logo is brought to life in this studio passion project.
Four different artists worked together to bring us a piece with such frenetic and feverish energy it feels like chasing the memory of a forgotten dream.
Mondlicht Studios
Shoe quickies often make our 'top viewed' list, but this video is more than worthy of inclusion in its own right. The 3D animation combines purple, pink, and blue hues to create an underwater wonderscape that wouldn't be out of place on the planet Pandora.
Peter S. Pak | Digital Kitchen
The style of this piece is an homage to the collages created during 1960s Harlem by African-American artist, Romare Bearden. Nominated for a Motion Award at our 2020 live event this much-watched Quickie offers 2D collage over a thumping beat driving the message forward.
Mathijs Luijten
This mesmerizing music video takes us on a journey beyond the realms of the human experience to a place where time doesn't exist. We find beauty in both its simplicity and its clear adoration for the music it represents. Frontman Scott Hansen (aka ISO50) is a renowned designer himself with a penchant for minimalist, clean lines and nostalgic references.
Damien Bastelica – DAAM
With 2020 perhaps being the hottest year on record, this Quickie seems to be well-timed.
The strong yet divisive message holds no punches as it looks to bring a touch of sadistic humour to the subject of climate change.
BluBlu Studios
From its eye-catching opening scene to its rhythmic head-nodding soundtrack perfectly in sync with the lyrics, BluBlu sends a bold statement that showcases both their confidence and the unique breadth of their talents
Yuvaroo
This beautiful animation captures the journey of a virus, showing just how connected we all are. 
The hand-drawn approach adds a human touch to its already powerful message.
Not Real
This video was a big hit with our audience, with its contemporary style drawing inspiration from the 1980's trend-setters the Memphis Group. The studio behind the project, Not Real, discuss the making of this video and a whole lot more in our deeper dive Q&A series here. The only thing left to work out is: how the hell do we get our hands on a pair of those trainers?
Rafa Cezar
With a mix of both 2D & 3D, this piece uses typography to spell out its abstract message:
the power of connection through digital means.
This Thing of Ours
Sub Surface animates an astronaut's run cycle using 24 laser-etched cubes. The ingenious use of laser beams and tourist trinkets make for a visceral experience and leaves one asking, how did they do that?  Here's how…
Stay tuned for more Quickies in 2021…