The origin of Motion Design studios, as told

by their founders.
By Filip Joos, Founder and Managing Partner at Whojo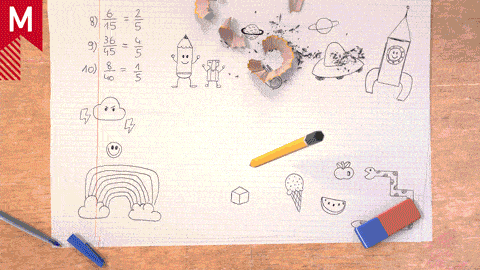 Editor's Note: In this series, we'll be hearing from the founders of creative studios recounting their tales of how it all began. Each studio and founder are at different stages in their journey, but whether they're 3, 10, 15, or 20 years in the making, these candid accounts offer unique insights into what it takes to own and operate a business in the world of Motion Design.

From deciding to go it alone to growing a team, to riding the unpredictable wave of technology, to evolving through a pandemic and gearing up for the future, these studios all have inspiring stories to tell.
I'm not sure what first inspired me to get into Motion Design. Perhaps it was the isometric animations used in the song Remind Me by electronic music duo, Röyksopp, or web animations like the 'supafly' series,  or maybe it was visiting Macromedia Flash MX 4.0 driven websites such as derbauer.de. In truth, it was probably a combination of all the above. But as I grew, I became so fascinated that I could begin to pinpoint moments of magic that would change my life.
In the mid-2000s, I began studying graphic design at Howest in Kortrijk, Belgium. It was here that opened my eyes to a whole world of art that I never knew existed. The college had a subscription to the Stash DVD series. Stash was a subscription-based service containing inspirational work that was issued monthly. I was hooked. I started to find things like Kyle Cooper's (Prologue) titles for OFFF, J.R. Canest's early work at Buck for "Waiting for Superman," and "Vanishing Point" by Takuya Hosogane. It became very clear to me that I needed to dedicate my professional life to Motion Design.
When I graduated, I returned to Howest and began teaching Motion Design fundamentals. I quickly realised that I lacked some of the graphic design capabilities of my talented colleagues. My strengths didn't lie in creating something from scratch, or helping students get their designs up to speed. I realised I was more of a mentor-type of lecturer. So, I stopped trying to educate my students and instead began to amaze them with inspiring Motion Design work from artists around the globe. I suppose, in a way, I became a human Stash Magazine.
I also couldn't hide my love for the technical side of Motion Design, like Expressions and plugins such as the Trapcode series or even visual programming in Processing. While I needed to cover the basics of After Effects, I found that adding a few lines of code to simple animations would quickly give back visually complex results that wowed the students and got them even more excited.
As I evolved my teaching style, I was starting to get contacted by third parties about potential projects. I discovered I had a natural flair for the commercial side of things, selling ideas, leading client meetings, and enabling brainstorming. I convinced one of my best friends to partner up with me, and we quickly became the go-to guys for the college. Whenever management or the communications department needed animations for internal use or for marketing purposes, we would get the job, and it wasn't long before other opportunities began to arise.
Red Bull was organising an award show for the electronic music scene, and it just so happened that a friend of mine was the art director. He was looking to replace the PowerPoint presentation they used in their first edition with some smooth animations introducing the categories, nominees, and winners. When we heard who the client was, I don't think we even let him finish his sentence. "YES!" we cried.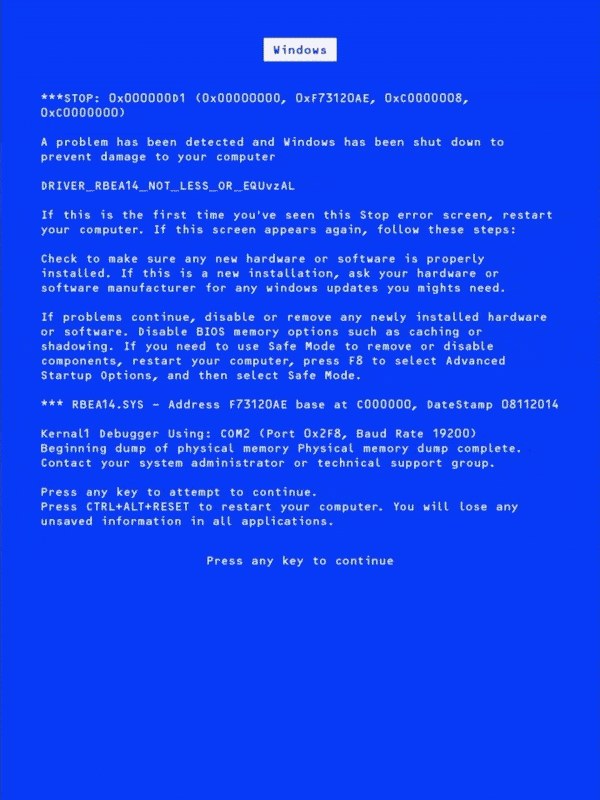 At first, they nicknamed us "the bumper boys," but eventually, we managed to show them what strategic use of Motion Design could add to an event. In the third year of us working with them, we went all the way on the event intro. It was retro-themed, so we made it in a Windows95 style with the icons, and even Clippy showed up (you know that annoying paperclip character that used to be in Microsoft word). We had Wolfenstein 3D in the background and so on. 
The audience was ecstatic, with many approaching our client after the show and telling him how much they enjoyed it. I think that's where it finally clicked for them, and they realised that we weren't just making bumpers; we were carrying the event with those graphics.
I completely fell in love with the experience. Subconsciously my company was formed right then and there; I just didn't realise it at the time. After a couple of years doing Red Bull gigs, animations for college, and other clients, the combination of being a lecturer at day and Motion Designer at night was getting too much. While money was coming in nicely, I was married and had a child by now. By this point, I was getting up at 3 am to freelance until 7 am. Then I'd go to college to teach until 4-5 pm, head home, have dinner and fall asleep on the couch. My wife and I knew it couldn't carry on, not least because I would miss the best years of our kid growing up.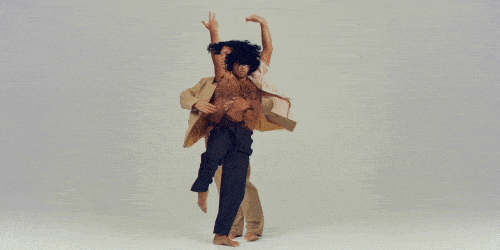 While combining those two jobs, I also had the unshakable feeling that I couldn't give 100% to both. I remember days where I would call for a 15minute break during class because I needed to take a conference call for a deadline that was on that same day. The last two years of teaching, I wasn't the best version of myself as a lecturer, and, in the end, that wasn't fair on the students. Something had to give.
I knew that a job at university was the safer option, and by safe, I mean almost untouchable. I'd already been at the school for ten years. In Belgium, after five years of working at a university (or government entity), you receive a special contract called a "Vaste Benoeming," which translates as "fixed contract." The Vaste Benoeming is a special status where you are safe until your pension; they can only fire you for some kind of gross misconduct.
At first, receiving this felt great, but I also had to come to terms with reaching the height of my career so soon. The dream of running my own company was heavily suppressed by this contract. I mean, why take a chance when I was so comfortable and safe? Despite the obvious risks to our young family, it was actually my wife who spurred me on. Our friends and parents thought we were mad, but in January 2018, my wife and I formed our company and moved into our first office: a small cubicle in a refurbished old factory.

Together we came up with "Whojo," which in Flemish is teenage slang for "wow!" It's one of these words that you overuse when you are 16 but forget about when adulting. It has a nostalgic air to it that connected with us. 
I enrolled in a few start-up classes through the local Chamber of Commerce. These sessions helped me get to grips with the basics of running a business, managing a team, etc. They are still my helpline for management things today.
We didn't apply for funding or look for any investors; instead, I put in all the savings from my freelancing gigs and took a big leap into the unknown.  
I'd learnt from college that I wasn't a prolific Motion Designer; I was more of an enabler; I could bring out the best in people. Unfortunately, my fellow 'bumper boy' wanted to continue teaching for a bit longer, which meant I needed to bring in some people right from the start. Recruiting so early might have been a tricky business, but fortunately, I had the perfect pool of people right under my nose.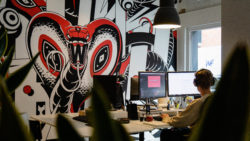 My class was full of amazingly talented designers, and I knew them well enough to work out who would both excel and be compatible with each other. So, I recruited two of my ex-students as our first employees. I think this added to my first-day nerves, though.
Both of my new colleagues had previous work experience working in a studio environment, and although I visited many studios as an internship coordinator while teaching, I never actually worked at one. I was the owner, sure, but I was still considered the least experienced in the room. I believe this 'weakness,' though, is also my biggest strength. Since that first day, I've been running Whojo on gut feeling and passion, over experience. We could only be different from other studios if we weren't doing what everyone else did.
Over the years, we have grown our initial team of three to seven. As we grew, I was always learning and trying to make the company more efficient. It may have taken me around two years to notice, but I realised that I was one of the bottlenecks of our company. Once again, I was trying to do too much. In my efforts to run the company and the studio simultaneously, I noticed that sometimes the team was making Motion Design for me and not for the client, and just like in my previous life, I wasn't able to give 100% to either.
We needed to make a change; it was time to hire a studio head.
When recruiting, I am looking to find a spark in the candidate's eyes whenever they talk about Motion Design, quoting favourite artists, or referring to work. I always choose ambition over experience and consider progression (or the hunger to progress) to be the best asset a future colleague holds. Hence our team now consists of 2D and 3D Motion Designers driven by ambition, sharing the love of Motion Design. Everyday we get inspired by the work we see passing by on this website. We feel the hunger to create, to grow. We have the ambition to work towards a moment where we will be able to amaze others.
After meeting a few candidates, we chose someone who perfectly fulfilled the above criteria. Maxim is another former student of mine. For the last year, he has been an amazing asset, managing the operational side of Whojo and treating it like his own child. He is now in charge of briefing the team, managing deadlines, art directing the projects, and getting the best out of everybody; this has allowed me to put more time into strategy and exploring new business opportunities.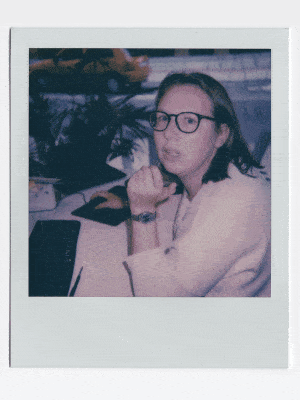 Still, since most of our work, pre-COVID, was related to events, the pandemic hit us hard. Thanks to the flexibility of our team, we shifted quickly towards online work, including explainer videos or social media promos. We also landed our first job for broadcast where we made a series of idents for national television.
Surprisingly, we used the same animation techniques as for our event work, and our workflow didn't change a lot. We were still combining 2D and 3D, but this time those graphics weren't announcing nominees or winners for an award show, for example, but instead, they were illustrating company processes or products.
Since the start of Whojo our relationship with the agencies also evolved. In the beginning, they would ask if we could re-create a quoted animation or show up with the final storyboard or style frames and ask if we can animate that. Now, more and more agencies are approaching us and using us as a resource to help figure out what their client wants. Instead of just animating, we're creating the abstracts, the scripts, the storyboards or style frames. We're now in discussion with the end client, as we all work together towards a positive result. It took us a few years to build this level of trust with the biggest agencies in Belgium but working together like this allows us all to be at the top of our game.
I see a lot of other studios around us whose style I've come to recognise. We, on the contrary, sometimes use 2D, other times 3D, sometimes cell animation, other times we're rigging in "Duik." I absolutely love the diversity of the work we're publishing for people like Mastercard, Netflix, and Adobe. Still, I also believe that, unconsciously, we are developing a signature style of our own, and defining and refining this would be a significant step towards broader recognition.
At this moment, many of our projects are combining 2D and 3D, and as we're tech-savvy, we also love early adopting plugins or new techniques into our work. So, currently, I would define our signature to be 2D, 3D hybrid with a big love for the "new" section on AEscripts.com.
Studio Reel:
Right now, we're serving agencies and clients locally, here in Belgium. Short term, we are looking to expand our business overseas, or at least outside of Belgium. We're exploring opportunities and are actively looking to get more attention abroad; we're reaching out to our favourite agencies and studios worldwide and are trying to convince them that long-distance relationships are great for boosting creativity. I must admit it's a bit of a leap into the unknown; we're not too familiar with concepts such as representation.
As for Motion Design in general, we see a lot of potential in creating real-time motion graphics. At the moment, tools are lacking and are too much focussed on game design or events, but we're dreaming of a real-time After Effects/Cinema 4D hybrid where we can generate Processing like executables that eat data for breakfast and turn them into a Motion Design feast on your device. So, give us a call, Adobe; we might just have a couple of ideas.
---
Studio Stories is a Motionorapher initiative created and edited by @Stuart Groves.
To tell your studio's story, please submit your details to OOY on Motionographer.com.