First a Little About Myself… 
Hello! My name is Madison Ellis, and I am an Art Director at Scholar, a studio with expertise ranging from animation and CG to live-action. Originally from Southern Maryland, I grew up probably like a lot of you, drawing, creating, shooting weird films with the family camera, and being that one art kid in the class. In 2014 I followed my love of art and creation to the Savannah College of Art and Design, where I discovered how amazingly broad the creative industry is. I learned that I could tell a story using a combination of all of my passions: animation, live-action, and illustration. Four years later, in 2018, I joined Scholar as an intern (but we'll come back to that).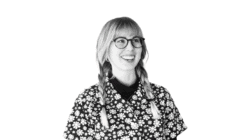 I am writing this article as if I was writing it to myself before I graduated college. You should know that I was never the most technically talented in class or the smoothest animator, and I didn't have a million followers on Instagram, but I knew what I wanted to do. As a young woman, even three years ago, I didn't see many people like me in director roles. I am incredibly grateful to be where I am.
I hope aspiring artists looking to direct one day can get a little inspiration from my journey. Not everyone's path will look the same, but I hope my perspective can provide a bit of guidance as you step into the industry or, at the very least, an entertaining read.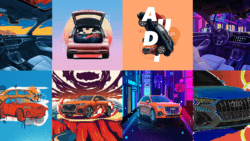 You'll see that my progress didn't come from just picking myself up by the bootstraps. It came with good timing, a little bit of luck, and a studio with great leaders who wanted to listen and let me grow. I want you to know that you can find this too, but that doesn't take away the hard work you will have to put in or the lessons you will have to learn to make it from intern to art director.
Audi: 
Audi was a project where I was able to lead design with Scholar Creative Director Macauley Johnson. This meant that I helped answer the team's questions, helped the designers through critiques and worked with them to create final designs. This brief was super open ended, which  was exciting for me since I don't consider myself to have a particular style. So a project where I can explore different directions and get weird became a favorite. 
THE INTERNSHIP
I graduated from SCAD in 2018 and met the lovely folks at Scholar at our school career fair. I had absolutely no intention of ever leaving the East Coast but working for a studio like Scholar was too cool of an opportunity to pass up. So, like many who moved to this city before me, I packed my life into my car and moved to LA, fully believing I would only be there for a few months. When I arrived on my first day, I was immediately thrown into the pipeline. Whatever they needed, I would have to adapt – animation, design, photo comping; you name it, I was in the trenches with the professionals. 
What I Learned…
It was in those trenches that I was very quickly humbled. While working on project after project, designing my heart out to try and learn how to match briefs and styles surrounded by some of the best talents in the industry, I was taught my first lesson: you are probably going to make some bad stuff at first, and I certainly did.
Because of that, though, I learned not to get too attached to my work, especially in those first projects. As a designer, sometimes your frames won't make it to the final product, and it might not be because they're "bad," sometimes, what you create just won't be suitable for that project. And that's totally fine! The beauty of the Motion Design industry is that most projects don't last too long; you will get to try again on the next one.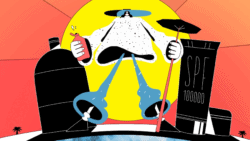 A couple of weeks into my new role, I was brought into a meeting with the owners of the studio. They wanted to know what my goals for the internship were. Being the nervous talker I am, I blurted out, "I want to be an Art Director."
I paused and sealed my lips shut for a second. I couldn't help it. What the AD's did looked so exciting to me, and I wanted to lead. I left the meeting mortified; Why did I say that? I thought. I've only just started; I'm only an intern.
It turns out that was probably one of the best things I could've ever done for my career. They took that first conversation and said, 'Okay, let's see what you can do.'
This was another big lesson for me: Always be clear about your future goals. Even if they seem far-fetched or out of reach if the right people are listening, speaking up can create opportunities.
TDLR? [Too Damn Lazy to Read? Then here are Your Takeaways];  
Getting thrown into the deep end teaches you how to swim (most of the time). 

Don't get too attached to your work because it may not make it to the final product. 

Be clear about your future goals, no matter how small or large. 
Internship Project Highlight: Summer Camp 2018
This internal Summer Camp project was one of the first projects I got to work on professionally. Truthfully, I helped on a lot of projects during this time, and I learned a ton, but there weren't many projects where my work made it to the final round. Internships involve a lot of give and take; you support the studio, and they, in turn, invest in a future version of yourself. 
DESIGNER + ANIMATOR = DESIGNAMATOR 
After five months of hard work, I was asked to stay as a permanent member of the team. After how much I had learned and grown in that short time, the decision to 'go staff' was an easy one. My 'day-to-day' didn't actually change much, and I was grinding like I had before; only now I was earning a living from it. As new projects arose, I started to work more with the directors and was given opportunities to sit in on client calls; this gave me an insight into how projects worked from start to finish. 
What I Learned…
I was told when I joined staff that I should get out there more, talk, and learn from my coworkers. I am an anxious person so the idea of walking up to an established and talented artist was terrifying, but being staff gave me the legs to stand on, and I grew the confidence to start looking over people's shoulders and start asking questions. More often than not, they were completely excited to share with me; most people are. Even when working remotely, it doesn't hurt to send a DM and see what your coworkers are up to. At our core, most of us are just passionate nerds and jump at the chance to share it.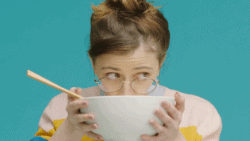 As I worked on more projects, I was given more opportunities to try out new styles and techniques, even to shadow directors. I tried to go a little farther with every project. I would ask producers and directors about the process and what I could do to help. It is important to remember; this process is never a straight line. For every project that I saw as personal growth and success, another would come along to bring me back down a peg.
TLDR; 
Ask your coworkers questions, artists and producers alike, and learn from them. They are talented. And usually very nice.   

Take initiative.

The process is not a straight line. 
Designimator Project Highlights: Chegg:
Chegg was the first project where I was brought in at the very start. I worked with Scholar Co-Founder & Director William Campbell and Executive Producer Antonio Hardy, and they gave me the opportunity to help build the campaign from script to render. I brainstormed and concepted ideas from the start and realized that was something I wanted to do more of. 
ART DIRECTOR
Cut to October 2020, when I was officially asked to join the talented list of Scholar Art Directors. Much like the move from intern to staff, the transition was smooth given the years prior spent working up to this moment: shadowing directors, sitting in on calls, and leading bigger and bigger teams. I had been slowly popping off the training wheels to find where I am now, directing projects and continuing to grow exponentially on every single one. 
What I Learned…
Although I had gained experience leading, every time I found out I was going to direct a crazy new project or be on a client call, I panicked that I wasn't ready. Sometimes I still do, but you figure it out the best you can, and then it's onto the next one. With the right team by your side, things tend to work out.
The biggest difference in becoming an Art Director is that you are less on the box and more team and client-facing. And while having the technical skills and design eye is very important, communication and a good attitude are an AD's biggest strengths. How you talk to your team and your clients can completely change the way a project comes together. I was told early on by Creative Director Mike Tavarez that "even if you have no idea what you are doing, finding the confidence to trust your voice and communicate your vision is everything."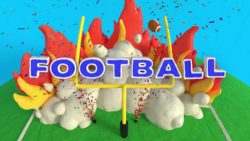 As a director, you will begin leading bigger and more complex teams and learning the nuances of talking to different people. You will work with your team to get what you are looking for and to create something that they are proud of, all while considering what the client wants. As a young director, many of my teams consist of people who have been in the industry much longer than I have. Because of this, I often have to remember that surrounding yourself with people who know more than you is the best team you can have. 
The reality is that often my teams and even my clients are mostly male and figuring out my voice in a room where I am the only young woman, can at times be challenging. Working on bigger and better projects is cool, but what I really want in the future is to have a stronger voice in the conversations that matter. To use my position, as you may one day, to make a change in our industry for the better so that future teams, clients, and projects are more representative of the world we live in: one that is diverse, rich, colorful, exciting and a little bit weird. 
TLDR; 
    Your attitude and ability to talk to not only clients but your team will take you far.    

    Surround yourself with people who are better than you.   

    Have a voice, even if you stutter. 
 Art Director Project: ESPN Fantasy Football:
ESPN Fantasy Football was the most recent project I directed. It was a continuation of a project I worked on in 2019 while I was a designer/animator, so it was a cool experience to come back to the project with a new perspective. Since it was open-ended in terms of aesthetics, it provided an exciting design and animation challenge to treat each shot as its own world while trying to keep it cohesive.