Online, it's hard to get a sense of the visceral impact that large-scale interactive works can have on users. You lose the immersion factor, and no matter how good the video documentation is, the project feels like a distant echo of itself. 
Despite this limitation, I felt a distinct sense of wonder when checking out Design I/O's Connected World's project.
Connected Worlds is a large scale immersive, interactive ecosystem developed for the New York Hall of Science. The installation is composed of six interactive ecosystems spread out across the walls of the Great Hall, connected together by a 3000 sq ft interactive floor and a 45ft high waterfall.

Children can use physical logs to divert water flowing across the floor from the waterfall into the different environments, where they can then use their hands to plant seeds. As the different environments bloom, creatures appear based on the health of the environment and the type of plants growing in it. If multiple environments are healthy creatures will migrate between them causing interesting chain reactions of behaviors.
Built with Open Frameworks, Connected World's is both a playground and a science lesson. The virtual ecosystem contains a limited water supply, so the actions of the children (and, I'm sure, adults) have an impact on other parts of the system. Without water, for example, plants and trees will wither and die.
Like any good ecosystem, Design I/O's is buzzing with colorful, diverse lifeforms and surprising moments of discovery.
Making "Connected Worlds"
Design I/O had to tackle immense technical and creative challenges to design and build the Connected Worlds system. For example, to handle the migration of creatures from one environment to another, Design I/O needed to craft a network solution that could handle real-time water and creature data across 8 Mac Pro computers.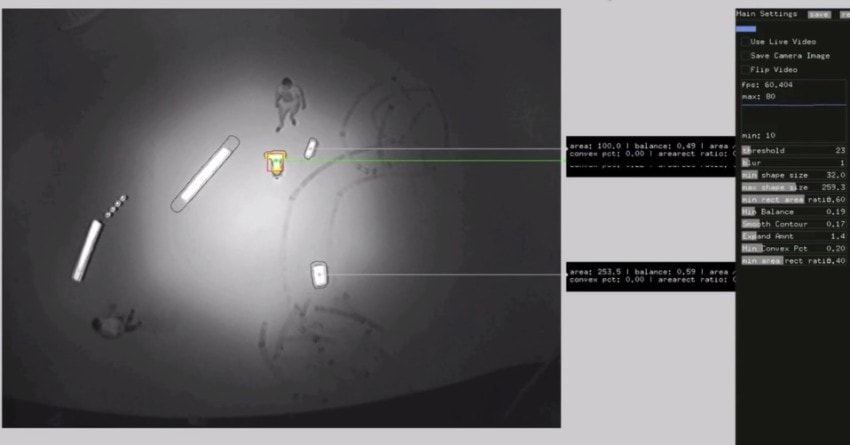 To track the position of physical logs (which control the flow of virtual water), Design I/O used an array of three infrared cameras and wrapped the logs in retroreflective material, which boosted their visibility in the system.
Connected Worlds on Design I/O.
Credits
Most (Sound Design)
Josh Goodrich
Zach Gage
For a full list of collaborators, visit to the NYSCI project page.